How many companies do you know that are almost 100 years old? What is it that made them thrive for so long? Sure, the quality of what they sell must be excellent. But, also, their organization must be smart enough to constantly evolve both their products and their technology over the years––to meet ever-changing business needs.
These are for sure the main features leading IMS Filtri to success. The company's filtration system for coffee machines is widely recognized as one of the best in the field: it's used by many of the world's leading coffee manufacturers and received several awards for its innovative design and performance.
To let the whole world know about the groundbreaking transformations it went through to become such an acclaimed filters producer, the company has just refreshed its website content, user experience and layout. So here's the new imsfiltri.com.
A website tour: a roadmap from tradition to innovation
Start by clicking on the About Us page for some behind the scenes fun-facts on company history. It's the unique story of a family who got the courage to start a business in the '40s. A small "bottega" in Pavia, designing filters and showers for the earliest espresso machines, turned today into a factory producing 40.000 complex pieces per day for customers worldwide. It's not about magic, it's about passion.
Discover some juicy info on how, over four generations, the family has specialized in the study of espresso filtration. How it transitioned into the new millennium by revolutionizing the filter drilling technology studying models of showers and net showers for all brands, and breaking boundaries towards innovation.
And the best part is that you can read it all on the go, while going to work, on the bus or on your couch, at any given time, because the new website is designed to provide a seamless user experience on all devices, even the smallest smartphone.
Showing the world a strong brand identity
Browsing the IMS' site is like visiting its factory. What is striking about its laboratories is how high-tech, but artisanal at the same time, all those machines look. Have you spotted that half century old lathe?
Same goes for the look and feel of imsfiltri.com: a modern style, but still lean and graceful as tradition asks. You can read about the ongoing projects and all their new commodities, but what really stands out is IMS' strong personality, one that only 100 years of experience can give away.
A new design: classic meets modern
The new design can be described as a balance between contemporary aesthetic and classic elegance. It's made of clean lines and minimalistic elements, which represent a modern and forward-thinking approach. At the same time, it incorporates traditional elements, such as classic typography, ornate details, and timeless color palettes, which evoke a sense of history and heritage.
This type of layout effectively conveys a sense of stability and reliability, while also exuding innovation and progressiveness. By blending contemporary and traditional elements, the design is able to connect with both modern and traditional audiences, making it appealing and relevant to a broad range of people.
Have you spotted IMS' unique quality and deep know-how giving the future a wink? The whole world has.
Find what you're looking for in a shiny product page
The new website is in fact only in English to reach as many customers as possible and it's just like a (online) shop window that shows all the company's products and their features. Thanks to the high-quality images, you're able to see a filter or a shower in action and get a good idea of what they look like, how to use them and how good they are for you. At a glance.
And in case you can't seem to find a specific item, in case you're not sure about compatibility, in case all those numbers and technical features are becoming a bit overwhelming, you can get in touch with an expert anytime! Just click that convenient "More info" button to get some tips. Plus, every product comes with a guide to help each and every type of user pick the best asset for them: you can be sure IMS will try tomeet your needs in the most effective way.
New designs and new materials for new coffee flavors
Making the right choice is very important because the quality of your coffee will be affected by the type of filter or shower you'll use. Some from other brands may leave residues that alter the taste of your coffee, while others may not be effective at removing coffee grounds, leading to over-extraction or a bitter taste.
But no worries, IMS will always have your back. Its multi-layer stainless steel mesh filters are designed to capture coffee grounds, while allowing coffee oils and aromas to pass through. The result is a clean, flavorful coffee with minimal residual grounds. Your customers will be grateful.
There are so many types of filters and showers and so many coffee-scapes to explore. Want more body, more crema or more homogeneous flavors in your cup? Then you should go for a filter basket with a rounded shape. Or maybe want to remove and clean coffee cakes more easily? Then pick the IMS antibacterial Nanotech Coating and their new Superfine Membrane. It's quick and easy, just look at the menu bar on top, select "filters" and let yourself be guided through your favorite coffee. With the perfect technology.
A cutting-edge technology that inspires And level up your expertise.
Be inspired by the drilling engineering patented by Massimo and Claudio Monti in the early 2000s. It was designed to provide high productivity and reliability, while reducing operating costs and improving safety.
Follow their continuous and constant research on materials and techniques––pretty important since what the filter and shower are made of can affect the taste of your coffee, as well as their durability and maintenance.
Learn every little secret on the making of the two distinctive elements of an espresso machine: the shower that dispenses water onto the coffee tablet and the filter that holds the coffee and filters the drink.
Improve your coffee experience and knowledge with the right content, in all the right places.
A surprise on the homepage: the new Blog section
During this little website tour, you should do a stop-over on the homepage. Highlighted on top, the first thing you'll see will be the link to the new and improved Blog section.
Did you know that CEOs Giulia and Emanuele Monti are expanding their product range towards other coffee extraction methods? Now you can read about the launch of the E&B lab and always stay up to date with all the latest news, trends and events in the coffee world!
It's a great way to continuously spread information about IMS core business and also give big and small companies around the world direct access to the brand and its know-how. Feel free to leave your thoughts and comments under the articles: this could lead to the creation of a proper community under the company's wing.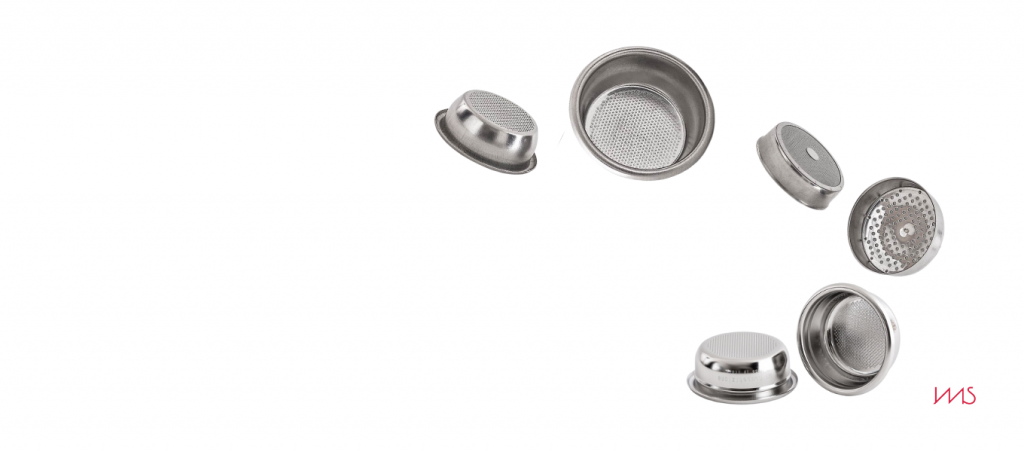 The importance of a direct communication
If you'd like to collaborate on new projects, share ideas and pass on your true passion for coffee, you can also get in touch with IMS through their new Contact Page.
And don't forget to leave a feedback about the website. Do you like it? Is there anything that can be improved? IMS is very open to dialogue and exchange and will do everything to make sure every aspect of its business is truly relevant for customers.
You know, first hand interaction is essential to better listen and respond to the needs and requests of your providers, partners and clients. It allows you to personalize and differentiate products more easily and grow exponentially… hopefully for 100 years or more!
IMS is on a mission
After an in-depth navigation of the new website, it's clear that the mission of IMS Filters––after a strong rebranding work––is to enhance the IMS brand and make it an icon in the espresso filtration field. It's on the right path.